Professional boxing returns to Civic Complex on August 6
July 5, 2022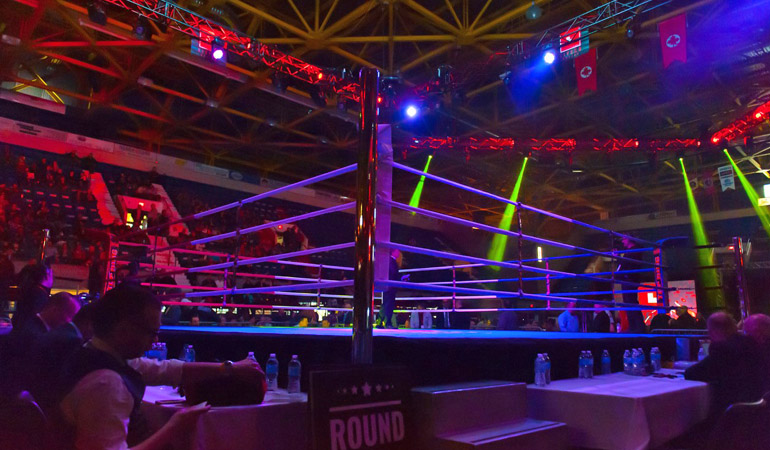 For Cornwall boxer Tony Luis and Calgary's Steve Claggett, there's a bright light beckoning from the horizon. There also is darkness.
Few things are as intensely motivational as a 'crossroads fight' – a showdown likely to rejuvenate the winner, and perhaps end the career of the loser. It's an accurate description of the August 6th collision between Canadian super lightweights who have been circling each other for years.
Luis (29-5, 10 knockouts) will be in his hometown arena, the Cornwall Civic Complex, to face Claggett (31-7-2, with 21 KOs) in the main event of a multi-fight card on Saturday, August 6th, promoted by Liveco Boxing Inc. An action-packed undercard will be announced shortly.
"Every person I've talked to says the same thing: 'Wow, what a great matchup!' And it really is," said promoter Denis Benoit, CEO of Liveco Boxing. "The winner will get yet-another big opportunity to compete on the world stage, but we may never see the loser in the ring again."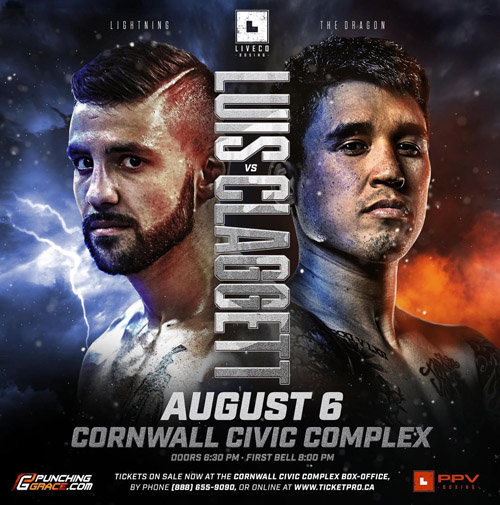 The 34-year-old Luis is seeking redemption since suffering a highly controversial decision loss to undefeated John Bauza (now 17-0) at Madison Square Garden back on March 19th of this year.
"In my last fight against Bauza, I wanted to show what I can still do with a healthy body," said Luis. "I think I, and the fans, deserved a much better outcome. But the way my style will mesh with Claggett's, I don't see any loser here. And the biggest winners will be the fans."
Claggett has stayed quite active over the past few years, winning a technical decision over David Theroux (16-3) in November 2020, suffering a split-decision loss to Mathieu Germain (18-2-1) in May 2021, and back-to-back knockout wins against Emanuel Lopez (30-13-1) in August 2021 and Sebastien Ezequiel Aguirre this past March.
"This is a great fight for Canadian boxing – two warriors who have proven their heart and are both still fighting after a decade in one of the toughest sports on earth," said the 33-year-old, who turned pro in 2008 – the same year as Luis.
"Now we get to see who has been working harder, who has put in the effort, and who can pull it off when the bell rings," Claggett added. "This fight has been building for a long time, and there will be no backing down. Let's see who wants it more."
Both fighters favor an aggressive, straight-forward style, likely to result in a memorable war.
"Claggett and I have had similar career paths – beating the odds, making our way as road warriors, and competing at a world-class level with our backs against the wall," Luis said. "I think we always knew this day would come; we just never knew when. Now we do."
The event will be streamed live through Liveco PPV and Punching Grace.
Get your tickets
Tickets for the highly anticipated matchup are on sale now. They can be purchased online at Ticket Pro or in person at the City of Cornwall Box Office (located inside the Aquatic Centre and open Monday to Friday, 8:30 am to 4:30 pm). Tickets can also be obtained by phone at (888) 655-9090.
Click here to purchase your tickets
Get ready to explore
Start planning your visit to Cornwall online! The Cornwall Tourism website is a great resource to discover upcoming events, attractions, accommodations and more!
Make sure to check out our Summer Fun Guide list of festivals and events to fill up your calendar! Also, visit the Explore section of our website for other fun-filled activities to keep you busy. Better yet, consider extending your stay with a night at one of our great accommodations!
Got a question?
Got questions? Need recommendations? We're here to help! Call or text us at 613-938-4748 or email us at info@cornwalltourism.com and we'll be pleased to help you with any questions you may have!
Also make sure to check us out on Facebook and Instagram for updates and more great reasons to visit Cornwall!