The Craft Shack brings Summer Socials to Downtown Cornwall
July 11, 2022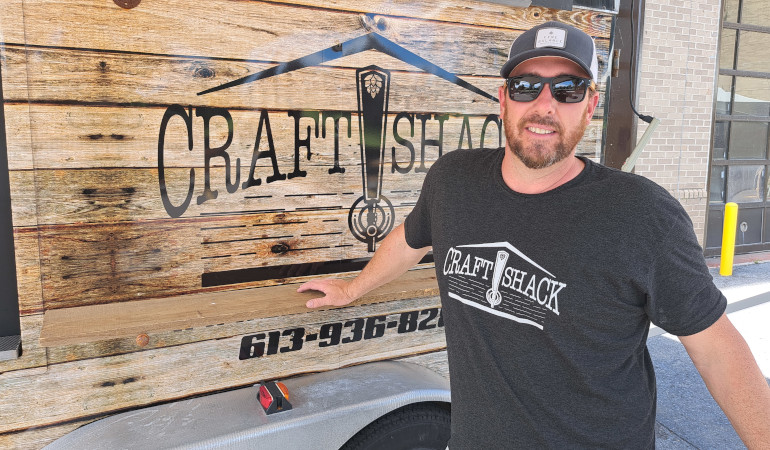 One of Cornwall's favourite outdoor events will be bringing cheer to Downtown Cornwall as Bentley Hospitality returns with the Summer Socials.
The Craft Shack will be located at Cornwall Square – in the former Active Green+Ross parking lot at Pitt and Water Streets – on select nights during the summer. The unique pop-up venue in the heart of Downtown Cornwall will provide patrons with views of Lamoureux Park and the St. Lawrence River while enjoying great live entertainment and a selection of cold craft beverage combinations.
"Our Summer Social series last year was very popular, and we are happy to bring back the event on select dates this summer," said Ian Bentley of Bentley Hospitality, the operator of the Craft Shack. "The venue is a little bit more urban, which allows for people to plan a night out Downtown – perhaps a little bit of shopping, some dinner and then some great Ontario craft beer and live music at the Craft Shack."
The Summer Social series kicked off on Friday, June 24th and the next social is currently planned for Friday, August 26th. Additional details on tickets, entertainment and the craft beer lineup will be announced in the near future.
"We invite people to bring a lawn chair if they wish – there will be limited seating," said Bentley.
Bentley has a long history of organizing events that bring together people in fun and exciting ways. His 25 year career in the hospitality industry spans several countries and top-notch venues – including the Fairmont and Delta Hotels as well as Cornwall's NAV Centre. He launched the Craft Shack last year – an innovative mobile trailer that features state-of-the-art draft beer equipment, a full graphic wrap and hand-crafted wood tap handles and flight boards. Since then he has held a number of outdoor events, including Summer Social and Rock the River.
Additional information
For additional information on the Summer Socials, please check out the Bentley Hospitality website or the Craft Shack Facebook page.
Get ready to explore
Start planning your visit to Cornwall online! The Cornwall Tourism website is a great resource to discover upcoming events, attractions, accommodations and more!
Make sure to check out our Summer Fun Guide list of festivals and events to fill up your calendar! Also, visit the Explore section of our website for other fun-filled activities to keep you busy. Better yet, consider extending your stay with a night at one of our great accommodations!
Got a question?
Got questions? Need recommendations? We're here to help! Call or text us at 613-938-4748 or email us at info@cornwalltourism.com and we'll be pleased to help you with any questions you may have!
Also make sure to check us out on Facebook and Instagram for updates and more great reasons to visit Cornwall!