Summer Fun Guide: 25 events to enjoy in August
August 4, 2022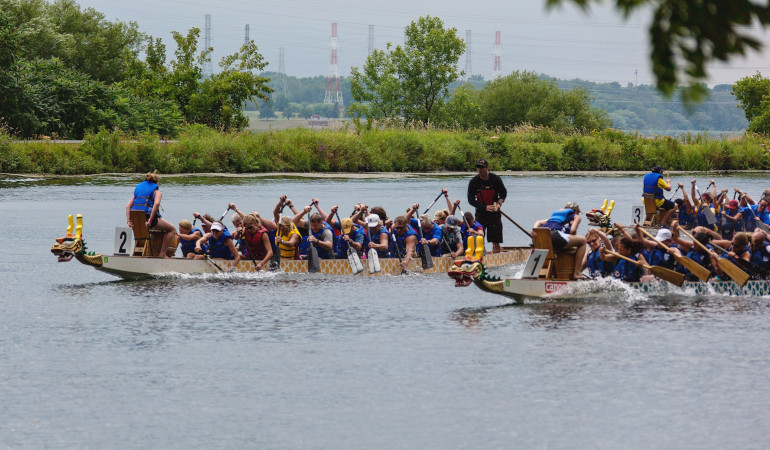 Summer's in full swing and the fun has just begun in Cornwall and SDG Counties.
August is now upon us and it promises to be a great month with so many things to see and do. From foodie festivals and dragon boat races to cultural events, artisan markets and outdoor concerts, there really is something for everyone to enjoy this month.
Check out our list of 25 events to enjoy in August below and get ready to have some fun!
---
1. Take in an outdoor concert
Enjoy great live entertainment in beautiful Lamoureux Park with Arts in the Park!
The popular summer concert series features free concerts at the Lions Club Bandshell in Lamoureux Park on select days throughout the summer months.
All shows start at 7 pm, weather permitting.
You can find also find great live entertainment at Concerts at the Winery at StoneCrop Acres. Enjoy amazing musical performances under the stars at this beautiful winery! Some of the planned August performances include Miss Emily (August 27) and Erja Lyytinen (August 28).
2. Time to feast
Canada's favourite dish takes the spotlight in Cornwall's Lamoureux Park from Thursday, August 4th to Sunday, August 7th.
Check out Poutine Feast and savour one of the many different takes on Canada's iconic dish – the great poutine – from a variety of food vendors!
Admission is free and there will be a VIP area providing table service.
3. Head to the fair
Canada's oldest annual fair is back for another year of fun!
The Williamstown Fair returns from Friday, August 5th to Sunday, August 7th to the beautiful Williamstown Fairgrounds in the village of Williamstown.
Enjoy live entertainment, children's activities, exhibits and so much more.
4. Fight night
Professional boxing returns to the Cornwall Civic Complex on Saturday, August 6th with an action-packed fight card headlined by Cornwall's own Tony Luis taking on Calgary's Steve Claggett.
Few things are as intensely motivational as a 'crossroads fight' – a showdown likely to rejuvenate the winner, and perhaps end the career of the loser. It's an accurate description of the collision between these two Canadian super lightweights who have been circling each other for years.
5. Festive fun
The 34th annual Winchester Dairyfest is back on Saturday, August 6th and Sunday, August 7th in beautiful Winchester.
Enjoy a street festival and dance in downtown Winchester on Saturday followed by family events all day Sunday at the Winchester arena.
It's a party you don't want to miss!
6. Spend a morning at the market
Enjoy a day of shopping from local producers at the Cornwall Kinsmen Farmers' Market.
The market runs every Sunday from 11 am to 3 pm in the parking lot at St. Lawrence College until the end of October.
You're sure to be blown away by the local vendors on hand!
7. Revved up racing
Get revved up for a night of exciting racing action at Cornwall Motor Speedway, one of Cornwall's most popular summer attractions!
Enjoy several feature races on the quarter-mile dirt track while surrounded by the roar of the engines. The racing takes place every Sunday, weather permitting.
8. Make some new friends
Discover Akwesasne's amazing culture and hospitality at the Akwesasne Friendship Day on Sunday, August 7th at the Native North American Travelling College on Cornwall Island.
This free event will feature live performances, food and craft vendors, an art battle, lacrosse demonstration, an old fashioned pie bingo, social dance and much more!
The event runs from 11 am to 5 pm and it's free admission!
9. Shop one-of-a-kind finds
Get ready to explore Cornwall's first Night Market on Friday, August 12th!
Head to Downtown Cornwall and shop with 50-plus pop-up vendors. Downtown businesses will be open late and patios will be opened for dinner and drinks.
A live DJ will be playing all your favorite throwbacks form the 80's 90's and early 2000's.
10. Cornwall Waterfest
Cornwall's annual Waterfest dragon boat races are set to return on Saturday, August 13th. It's quickly grown to become one of Cornwall's most popular summer festivals.
Head to the Cornwall Canal and watch the amazing dragon boats on the water. There will also be entertainment, vendors and much more.
11. A chaotic concert
Cornwall Chaos will showcase heavy music acts from Cornwall, Montreal and Ottawa on Saturday, August 13th at the bandshell in Lamoureux Park. This all-day concert aims to bring the community together by showcasing local talent and sharing in the love of music.
Admission is free however funds will be collected to support Hospice Cornwall.
12. A sweet event
The first ever Glengarry Honey Fair will take place on Saturday, August 13th from 10 am to 4 pm at the Glengarry Pioneer Museum in Dunvegan.
See honey producers, guest speakers, demonstrations, a garden tour, and hands-on activities such as candle making, Learn about honey bees and other pollinators and how far back this industry goes in this region and Canada. Children's activities and food will be available onsite.
13. Amazing art
Don't miss the amazing new exhibition at Cline House Gallery, Fish Out of Water, featuring the beautiful work of Toronto-based artist Monika Rosen.
The exhibit runs until August 27th and the gallery is open Thursday to Saturday from 10 am to 4 pm. Admission is free!
14. Awesome artisans
Stop by the beautiful Lost Villages Museum on Sunday, August 14th for Artisans in the Park.
The special event by We 3 Girls & Co. will see a variety of vendors, artisans and exhibitors scattered throughout the museum grounds selling their one-of-a-kind creations.
The event runs from 10 am to 4 pm and admission is free!
15. Head to the fair
The 130th South Mountain Fair promises a healthy dose of family fun.
Running from Thursday, August 18th to Sunday, August 21st, the fair will feature a variety of agricultural events and exhibits, entertainment, midway rides and delicious fair food.
That will be followed by the 2022 Chesterville Fair on the following weekend, from Friday, August 26th to Sunday, August 28th. Enjoy all the popular fair staples along with the popular Chesterville Demolition Derby!
16. Discover amazing art
Head to Downtown Cornwall for Art Walk, a celebration of art, on Friday, August 19th from 4 pm to 8 pm.
Cornwall's main street will be transformed into a pop-up arts district with artists, musicians and buskers animating the area. Local shops and restaurants will be open too so make sure to save time for some shopping and dining!
17. A candlelit concert
Enjoy a beautiful, intimate concert in one of Cornwall's most beautiful landmarks, Nativity Co-Cathedral, with the Concert sous les chandelles on Friday, August 19th.
Beginning at 8 pm, pianist Alejandra Cifuentes Diaz will perform the works of Chopin and Franz Liszt among a candlelit backdrop in this historic church. Tickets are $35 and are available at the door the night of the concert.
18. Doors open Cornwall and SD&G
Discover the story behind every door during Doors Open Cornwall & SDG Counties!
On the weekend of August 20th and 21st, a variety of heritage sites and unique buildings in Cornwall and SDG Counties will be opening their doors for members of the public to explore and discover – all free of charge!
19. Race weekend
The Cornwall Triathlon, one of Cornwall's biggest annual sporting events, returns this August! The youth events take place on Saturday, August 20th followed by the full triathlon on Sunday, August 21st. The Cornwall Triathlon includes a 5K run, Try-A-Tri, Sprint and Olympic Triathlon distances as well as a Sprint Duathlon. The race features an open water swim in the St. Lawrence River, closed bike course on Montreal Road and a run on the Riverside Trail.
Come out and cheer on the participants!
20. Big trucks and a movie
Mark your calendars and bring the family to the Cornwall Civic Complex and Lamoureux Park on Thursday, August 25th for the Touch a Truck event! Children will be able to check out a variety of City of Cornwall trucks and vehicles up close from 6 pm to 8 pm.
That will be followed by a free Movie in the Park on a giant screen in Lamoureux Park (weather permitting) as part of the City of Cornwall's Arts in the Park program. Bring some lawnchairs or a blanket and enjoy a family-friendly movie under the stars!
21. Summer bash
Celebrate summer in style at the Craft Shack Summer Social on Friday, August 26th at the former Active Green + Ross parking lot at the Cornwall Square. The unique pop-up venue in the heart of Downtown Cornwall will provide patrons with views of Lamoureux Park and the St. Lawrence River while enjoying great live entertainment and a selection of cold craft beverage combinations.
It's a party you won't want to miss!
22. Shopping in an historic venue
Come explore a variety of local makers and artisans while enjoying all that the beautifully-restored Cotton Mill District has to offer.
The Makers Pop-up will take place on Saturday, August 27th from 10 am to 3 pm at WB Hub in the Cotton Mill District, an historic quarter of Cornwall that serves as a perfect backdrop for a day of shopping. Over 20 makers and artisans will be on hand!
23. Take the stage
Enjoy some amazing live theatre at Upper Canada Playhouse, a landmark attraction on the local arts scene.
The theatre will be presenting Wally's Cafe on select days throughout August (both afternoon and evening performances available) and tickets can be purchased in advance by phone, email or online. Book your visit today and enjoy theatre in one of eastern Ontario's best playhouses!
24. Explore science at Saunders
The Saunders Hydro Dam Visitor Centre is a great place to visit any time, but there's even more reason to visit this summer thanks to their extensive offering of summer activities. The centre is offering a variety of free, family-friendly workshops and presentations focusing on science, wildlife, Mohawk culture, the Lost Villages and much more. There's a Teddy Bear Picnic on Sunday, August 7th and a virtual tour of the Lost Villages on Saturday, August 13th, to name just a few.
The workshops are free but space is limited and you must register in advance!
25. Learn the kitchen essentials
Learn some new skills in the kitchen with the help of Essential Kitchen, the new cooking studio and wine bar in Downtown Cornwall. The eclectic new space offers a variety of cooking classes and demonstrations to help budding foodies who are looking to master a new dish – or friends simply looking for a fun night out!
The cooking experiences include everything from learning how to make sauces to simple weeknight suppers or pie pastry from scratch. Space is limited and spots can be reserved online!
FIND MORE FUN!
Looking for more fun festivals and events to enjoy? This list is by no means exhaustive. There's something going on practically every weekend in Cornwall and SDG Counties. To discover event more events in the area, make sure to check out our Events Calendar. And make sure to check it often – it's updated regularly with new events!
#ExploreCornwallON
Looking for other fun things to do in Cornwall? Check out the Explore section of our website for other fun-filled activities to keep you busy. Better yet, consider extending your stay with a night at one of our great accommodations!
Got a question?
Got questions? Need recommendations? We're here to help! Call or text us at 613-938-4748 or email us at info@cornwalltourism.com and we'll be pleased to help you with any questions you may have!
Also make sure to check us out on Facebook and Instagram for updates and more great reasons to visit Cornwall!